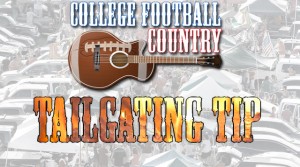 Every week on College Football Country, we provide you with a tip to take your tailgate to another level. This week, we feature a recipe for boiled peanuts.
Boiling peanuts has been a part of southern culture since at least the 19th century, so why not incorporate them into your next tailgate?
This week's recipe tip is simple and will be the talk of your tailgate – just be sure to prepare these peanuts ahead of time, as it takes about five hours.
Simply bring your peanuts, some hot sauce (about ¾ of a cup for every 2 pounds of peanuts), salt, ginger, black peppercorns, coriander seeds and bay leaves to a boil, stirring occasionally until the peanuts are tender. Make sure to check the water level to be sure the peanuts are always submerged, stirring occasionally.
After about four hours, remove from the heat and let stand for about an hour covered. Remove the peanuts from the water and allow them to cool and drain. Your peanuts are ready to serve! The spice from the hot sauce is just enough to give your peanuts great flavor and to get everyone fired up for the big game!