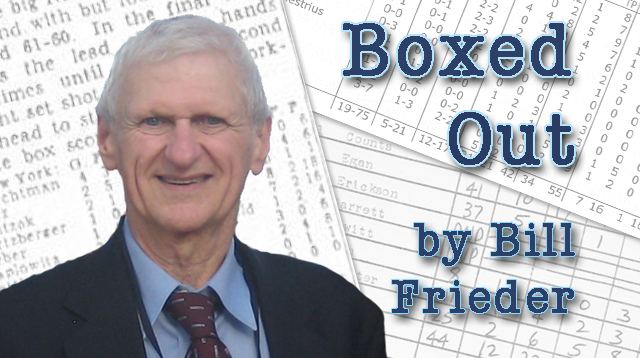 Defensive plays and big time baskets by Roosevelt Jones and Michael Carter Williams led the way to the two biggest victories last weekend among a host of ranked teams that went down. Butler beating Gonzaga was as good a college game as you will see and elevated both teams in my mind as teams good enough to get to the Final Four, while Syracuse winning at Louisville was also impressive as Jim Boeheim continues to win in spite of distractions and defections.
Duke, Michigan, Kansas and Louisville are my elite teams right now, but Syracuse, Arizona and a host of others are capable of making a deep run. I'm looking forward to broadcasting the Michigan-Indiana game from Bloomington on February 2nd. If Michigan can win there, WATCH OUT.
Back-to-back?
Interesting note I stumbled upon the other day. Baylor and South Florida have never been to back-to-back NCAA Tournaments, and Colorado has not done it since 1962-63. All three have a chance this year, but South Florida and Colorado have stumbled a bit. I am thinking Colorado gets well real soon. Although they are 2-4 in the Pac-12 and 12-6 overall, the Buffaloes' next eight games are at home against Stanford and Cal, followed by a trip to improving Utah, then a trip to Oregon and Oregon State followed by home games against Arizona, ASU and Utah. Quite possible CU is the favorite in six of those games and the Valentine's Night showdown against U of A will be crazy. South Florida is 10-7 and 1-4, and needs some magic fast in the Big East. Problem is, the Bulls are on the road for four of their next six. And here is a weird one for you: USF plays Marquette next Monday and then plays them again in 10 days on February 6th. What the heck is this, the NHL? That's not good scheduling on the Big East's part. One injury to either team could make a huge impact.
Ducks, Ole Miss and Miami are back:
Congrats to three teams who rejoined the Associated Press rankings after quite a wait. Oregon is on a roll and jumped into the rankings last week for the first time since December 2007. Ole Miss is also on the move under sixth-year head coach Andy Kennedy and is at #24 this week, reaching the top 25 for the first time since February 2010. Finally, Miami gets in the polls for the first time since December 2008 at #25.
Coaches on the cold seat:
Everyone always speculates about coaches on the hot seat, but how about the guys just plain getting it done? Minnesota has not won an NCAA Tournament game since 1997, and only one Oregon coach has won Pac-10/12 Coach of the Year in 35 seasons, and that was Ernie Kent in 2001-02. Look for Tubby Smith and Dana Altman to end those streaks this year.
Speaking of streaks…
Only Michigan State (15 straight years), Duke (17) and Kansas (23) have longer NCAA Tournament streaks than Texas, which has made 14 straight. Sorry Longhorns fans, but that also will end this year.
– Bill Frieder
Former Michigan and Arizona State head coach Bill Frieder is an analyst for Westwood One's coverage of NCAA Basketball. In his weekly blog Boxed Out, Bill scours the box scores to bring you interesting stories from the world of college basketball.