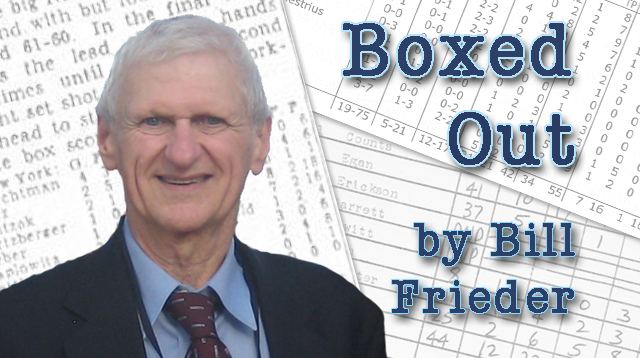 Last Saturday, a couple of undefeated teams got nailed and, just like that, the number of spotless teams is dwindling. Remember Butler, a team that recently went to back-to-back Final Fours? Well, Brad Stevens and his team struck again, defeating #1 Indiana in overtime. And in reality, the Bulldogs should have won in regulation as they led by as many as seven down the stretch before allowing an uncontested three to force the game into overtime.
Later in the day, Arizona — one of my sleeper teams — downed a fellow unbeaten in #5 Florida. Xavier transfer Mark Lyons, who I said could be the difference maker, gave the Wildcats their only lead of the second half on a jumper with just :07 on the clock. When the Gators couldn't manage to get a good look on the ensuing possession and Arizona's 65-64 victory was assured, it capped a terrible day for the weak SEC, whose teams lost five games in all. Three of those defeats came at the hands of Iona, VCU and Loyola-Chicago. Sure, Iona made the field of 68 last year and last week I talked about how good VCU has been, but Loyola-Chicago hasn't gone dancing since 1985. Regardless, a "powerhouse" conference like the SEC should be doing better.
I-L-L… 12 and 0. Big Blue at #2.
What a great job John Groce is doing at Illinois. To be undefeated through 12 games with a bunch of guys that he didn't even know last March is impressive. Setting the pace ahead of the Illini is #2 Michigan, with Trey Burke. If I had to choose one guy to run my team, I would pick him. Right now six Big Ten teams are ranked, and I can't see any of them falling out of the rankings this year. Illinois has done it against some solid programs. They eked out an early overtime win at Hawaii, which is never an easy place to play, on November 17th. That gave them confidence for Maui as they drilled USC and took out Butler easily. The Illini also beat an improving Georgia Tech team, won at Gonzaga and now play a huge rivalry game against Missouri on Saturday. Right now senior Brandon Paul is the talk of the town at 18.8 points and 5.1 rebounds per game in 32.7 minutes. Keep this in mind, young players: he averaged less than 20 minutes a game his freshman year. Paul has worked hard to make himself a top-level player. And what more can you say about Trey Burke? His numbers say it all. Burke is averaging seven assists a game, and that has allowed Michigan to shoot 51 percent from the field, sixth in the nation entering play this week. The key to basketball, many say, is getting more and better shots than your opponent. Trey Burke does that. And let me tell you what else that does… guys that pass keep their teammates happy. In this day and age of guys wanting shots, a guy who likes passing is always appreciated.
Boeheim at 900.
I was the head coach in 518 games at the college level at Arizona State and Michigan. To think that Jim Boeheim has WON 900 games is amazing, and we probably will never see another one like him with all those wins coming at just one place. Look at it this way: Billy Donovan started at Marshall, but has nearly 400 wins at Florida in 17 seasons. He would need to average 30 wins for the next 16 seasons to reach the 900 mark at Florida. As a cancer survivor myself, I want to say how happy I am for Jim and his family. May he have great health, many more wins and continue to get great support from the Syracuse nation. It is an amazing college basketball town and a program with an amazing man as its head coach. Congrats to Jim and it wouldn't shock me to see him reach 1,000 wins. It also wouldn't surprise me to see him cutting down the nets in Atlanta in April. The #3 Orange can play.
Other undefeated teams on the lookout
If you take the so-called power conferences, there are only six undefeated teams and some have tough games this week. #1 Duke (Cornell tonight, Elon tomorrow – both at Cameron Indoor) and #2 Michigan (Eastern Michigan at Crisler on Thursday) should be just fine. But #3 Syracuse plays Temple at Madison Square Garden on Saturday, #4 Arizona could meet San Diego State in the final of the Diamond Head Classic in Hawaii on Chrtistmas Day, #10 Illinois plays #12 Missouri on Saturday, and #11 Cincinnati have the always exciting cross-town matchup with Xavier tonight. All those games have the potential to be great early Christmas presents for fans of college hoops.
— Bill Frieder
Former Michigan and Arizona State head coach Bill Frieder is an analyst for Westwood One's coverage of NCAA Basketball. In his weekly blog Boxed Out, Bill scours the box scores to bring you interesting stories from the world of college basketball.