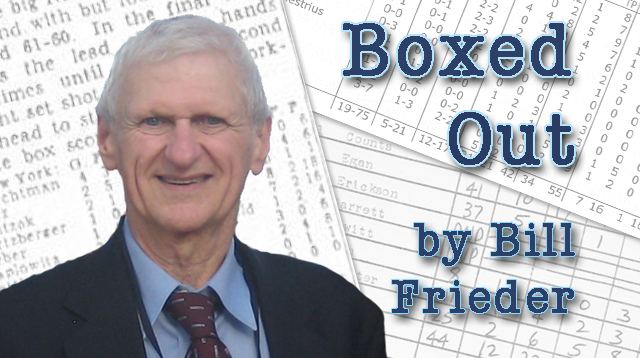 The unbeaten teams from major conferences have been reduced to just four — Duke, Michigan, Cincinnati and Arizona — after both Syracuse, which lost to Temple, and Illinois, which saw the Braggin' Rights go to Missouri, bit the dust on Saturday. However, Arizona continued to roll with a huge, hard-fought 68-67 win over a determined San Diego State team on Christmas Day. Like he did against Florida a week earlier, Mark Lyons made the big plays down the stretch including the winning free throws. Tough games coming up for the unbeatens include Cincinatti-New Mexico tomorrow night and the Bearcats' trip to Pitt on Monday. Arizona is at Oregon on January 10th, Duke's up the road at NC State on January 12th and Michigan travels to Ohio State on January 13th. There's a good chance there will be no perfect teams from the major conferences by the middle of January.
Let's talk about some teams that are intriguing as we come out of the holiday break. Now, intriguing can mean good or it can be puzzling. We go coast-to-coast with Baylor, Wyoming, Maryland, St. John's and a player from Stanford….
Baylor beat a very good Lehigh team to start the year and downed BYU to close its schedule prior to the holiday. The Bears won at Kentucky, but lost to Northwestern and College of Charleston in Waco. So how good are they? Good enough to finish anywhere outside of first or last in a very mediocre Big 12. Kansas and Oklahoma State are the best and I am looking forward to seeing how the Cowboys do against Gonzaga on New Year's Eve, but the rest of the league is just a work in progress. It wouldn't surprise me to see Baylor finish third because, at the end of the day, someone has to and Baylor has the athletes to make it tough to score against them. The Bears' inside-outside combination of 7'1″ freshman Isaiah Austin and senior point guard Pierre Jackson (6.3 assists per game) is probably going to be just good enough. But please Baylor, no more home losses to inferior teams.
Does anyone realize that Wyoming is 12-0? Well, get used to it because the Cowboys don't play again until January 2nd. Larry Shyatt's guys have a sneaky good win at Illinois State and a home win against Colorado and are led by 24-year-old USC transfer Leon Washington, who at 6'7″ and 230 pounds is a beast. Washington is averaging 14.8 points and 8.7 rebounds. Wyoming's next game is at SMU and then the Cowboys have another week off before hosting Boise State to open conference play January 9th. Road trips to Nevada and Fresno State follow, then a huge home game against San Diego State and a road trip to UNLV. Is Wyoming good? Yes. Are the Cowboys an NCAA Tournament team? Ask me after the UNLV game on January 24th.
Maryland has won 10 straight since losing its opener against Kentucky and its next four games are all at home against Delaware State, IUPUI, Virginia Tech and Florida State, so 14-1 is not out of the question. The Terrapins rank in the top 10 in rebounds and assists, so that means they are working hard and playing well together. In the middle of January expect all eyes to be on the Terps when they play at Miami, NC State and North Carolina. That stretch will tell you just how good the Terrapins are. And keep an eye on Alex Len. The 7'1″ Ukrainian center is nearly averaging a double-double (14.4 points, 8.8 rebounds) and could be a top-five pick in next year's NBA Draft.

Who got stung by the famous holiday getaway game upset? Not familiar? This is the last game before your kids go home for Christmas and, naturally, you try to schedule a team you can hopefully beat and then get away with no issues. Not so much for St. John's. UNC-Asheville almost beat Syracuse in the NCAA tournament last March, so maybe the Storm should've seen this coming. The Bulldogs of UNC-Asheville beat a Big East team for the first time in 16 tries with a 72-65 win at St. John's on December 21st. And St. John's led by 17 in the first half! Texas A&M transfer Jamal Branch became eligible against UNC-Asheville and will help Steve Lavin's squad, which opens Big East play with road games against Villanova and Cincinnati. At 8-4, St. John's needs a quick start in the conference and that won't be easy.
Looking for a candidate for the nation's most improved player? How about Stanford's Dwight Powell? The junior averaged 5.8 points and had six double-figure scoring games last year. This year? He has five 20-point games and is averaging nearly 15 points a contest. He is big, strong and, of course being a Stanford guy, smart. Stanford doesn't have a big win in the non-conference as the Cardinal lost to Missouri, Minnesota and NC State, so they need to do some work in the Pac-12. Remember this about Stanford: it doesn't get Arizona at home. So that is one big home game it won't have to make its mark.
— Bill Frieder
Former Michigan and Arizona State head coach Bill Frieder is an analyst for Westwood One's coverage of NCAA Basketball. In his weekly blog Boxed Out, Bill scours the box scores to bring you interesting stories from the world of college basketball.