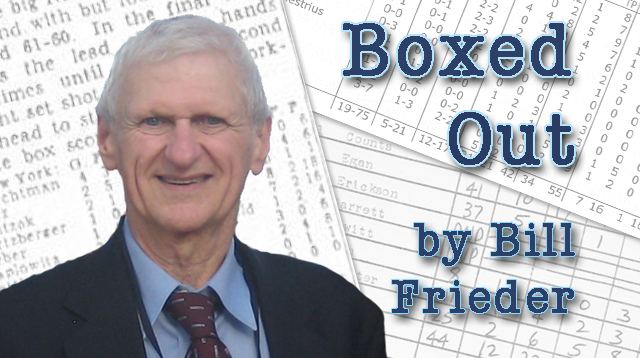 We've got a new player to talk about in Marcus Smart, a freshman from Oklahoma State. The 6′-4″ guard from Texas is the real deal, after pouring in 20 in a blowout of North Carolina State. Smart is averaging almost 15 points and five assists in four games this year. Which is something, as he was only 1-for-6 from the floor with just eight points in the season opener against UC-Davis on November 9. With freshmen, bad games are out there and the key is to get them to bounce back strong. Smart's done that and then some and the Cowboys are 4-0…

Pac-12 commissioner Larry Scott has the magic touch and it has happened in basketball as well. Who would have ever thought Colorado would have as big of an impact as they've had on the hardwood? The Buffaloes sold out their first game against Wofford, then got in the rankings for the first time since March of 1997 with a three-game championship run at the Charleston Classic. Andre Roberson averaged a double-double as a sophomore, and Askia Booker scored 58 points in the three games to earn tournament MVP honors. CU beat Dayton, Baylor and Murray State and Colorado started 4-0 for the first time since 1998-99…
For those that don't believe that in college basketball anyone can beat anyone else at any time, I give you this: Columbia 75, Villanova 57. It was Lions' first win over Villanova since December of 1969 and Columbia's first win against a Big East foe since beating Seton Hall in November 1985. The Ivy League has better talent than people understand, and is always blessed with good young coaches…
I really feel for Penn State. Point guard Tim Frazier will miss the rest of the season with a ruptured left Achilles tendon. He was a preseason All-Big Ten selection who led the conference last year in assists (6.2 per game), and also paced the team in scoring (18.8 points) and steals (2.4). The Nittany Lions have made only four NCAA Tournaments in the past 30 years and these kinds of injuries just suck the life out of you and your team. He will apply for a fifth year and here's hoping he's able to bounce back. Often times we talk about the usual teams and  great players, but I want to make sure people understand how tough this is for a program like Penn State's with a good, young and energetic coach like Pat Chambers.
With all these Thanksgiving hoops tournaments happening now, they all kind of get lost in the busiest time of the year in college football with the regular season winding down and rivalry weekend coming up. My best memory was the 1994 Maui Invitational, when our ASU team beat Texas A&M, No. 16  Michigan (yes, I beat the Wolverines) and No. 7 Maryland. It put us in the rankings and we never fell out and reached the Sweet Sixteen. I tell you this because some team is going to come out of these tournaments with a bundle of energy and momentum and carry it to March. It might be Butler or Illinois, which met in the championship game in Maui. One of those teams could be coming to a regional near you in March. Both Brad Stevens and new Illini coach John Groce have done it before and I wouldn't be surprised if they did it again.
— Bill Frieder
Former Michigan and Arizona State head coach Bill Frieder is an analyst for Westwood One's coverage of NCAA Basketball. In his weekly blog Boxed Out, Bill scours the box scores to bring you interesting stories from the world of college basketball.