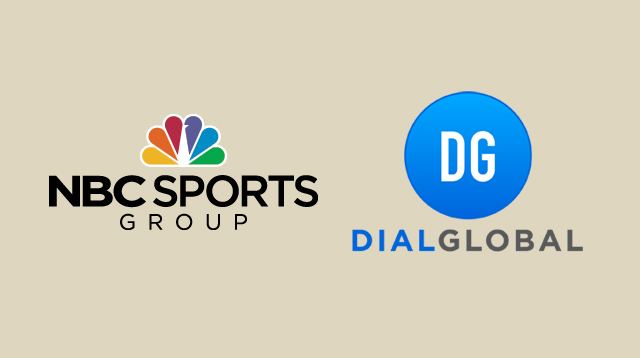 New National Sports Radio Network Begins in September, to Include Regional Daily Sports Updates
NEW YORK, NY, June 11, 2012 – The NBC Sports Group and Westwood One (NASDAQ: DIAL) announced a partnership today to create the NBC Sports Radio Network. Beginning in September, the network will be distributed to radio stations nationwide by Westwood One.
The network's content will include hourly sports news updates, daily features as well as full-length shows.
In addition to distribution on terrestrial radio stations, NBC Sports' audio content will be available on a wide variety of digital platforms. Live shows will be streamed on NBCSports.com, WestwoodOneSports.com, affiliate stations' websites and other streaming services. On-demand short-form audio content will also be distributed online and through podcasts and other digital applications. Westwood One will be the exclusive ad and affiliate sales representative to the network.
"We are thrilled to bring the rich heritage of NBC Sports to listeners across national radio for the first time," said Mark Lazarus, Chairman, NBC Sports Group. "By adding radio to our broadcast, cable, regional, and digital assets, the NBC Sports Radio Network will give sports fans a new way to interact with the NBC Sports Group day in and day out."
"Westwood One is excited to partner with NBC Sports Group to expand upon Westwood One's live play-by-play platform. We are confident that with NBC's sports assets, we will create a leading full service sports network and bring great sports audio to listeners across America," said Spencer Brown, Co-CEO of Westwood One.
Tapping into the NBC Sports Group's unique mix of national and local assets, the NBC Sports Radio Network will provide stations both national and regional sports content. Listeners may hear hourly sports updates, long-form shows and features hosted by national NBC Sports voices, NBC Sports Regional Networks on-air personalities, or NBC affiliate sportscasters, depending upon location. Specific programming and commentator details will be announced at a later date.
"Westwood One is the perfect partner for us in this new endeavor because of their unsurpassed national radio experience, relationships and infrastructure," said Rob Simmelkjaer, Senior Vice President, NBC Sports Ventures and International. "We look forward to growing the NBC Sports Radio Network together."
"With the combination of Westwood One's market-leading play-by-play and the growing NBC Sports Group's brand and talent, we are building an exciting and unique opportunity for the market that will bring new voice to sports radio that will quickly make an impact," said Chris Corcoran, Executive Vice President/GM of Westwood One.
This partnership expands upon the existing radio relationship between Westwood One and NBCUniversal, which includes NBC News, The Weather Channel, NBC Olympics and more. Earlier this year, NBC News partnered with Westwood One to create NBC News Radio—a 24-hour radio news network distributing news reports and content to over 700 stations nationwide.
About NBC Sports Group
When the Comcast-NBCUniversal transaction was completed in January 2011, the broad reach and storied history of NBC Sports united with Comcast's 24/7 ability to super-serve fans to create the NBC Sports Group. The sports media company consists of an array of broadcast television, cable television and digital sports assets, including NBC Sports & Olympics, NBC Sports Network, Golf Channel, 10 Regional Sports Networks, and their respective digital properties. Together, the assets of the NBC Sports Group possess an unparalleled collection of television rights agreements, partnering with some of the most prestigious sports properties in the world: the International Olympic Committee and United States Olympic Committee, the NFL, NHL, PGA TOUR, PGA of America, USGA, Churchill Downs, MLS, Tour de France, French Open, IndyCar, and many more.
About Westwood One
Westwood One (NASDAQ: DIAL) Defines Great Moments in sports, news and entertainment through its radio networks which are heard by over 225 million listeners a week. As America's leading provider and distributor of audio content to more than 8,500 radio stations nationwide, Westwood One produces over 200 news, sports, talk, music and entertainment programs, services and digital applications, jingles and imaging. Westwood One's sports programming includes regular and post-season NFL football (including the Super Bowl), NCAA Football and Basketball (including the NCAA basketball tournament), the College World Series and the Masters.  Westwood One will also provide exclusive radio coverage of the 2012 Olympic Games from London and the 2014 Olympic Winter Games from Sochi, Russia, both through an existing agreement with NBC Sports.