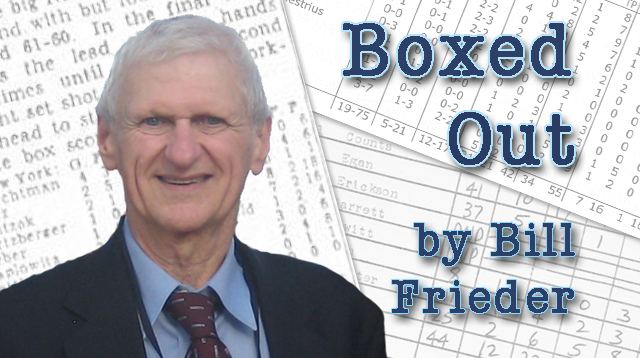 Some news and notes I found interesting after an exciting first week of the 2012 NCAA Tournament.
–There is not a single team west of Waco in the Sweet Sixteen this year. Think about that. We keep hearing that the Pac-12 is down, but the Mountain West Conference and the West Coast Conference did not bring it this March either. UNLV has not won a tournament game since 2008, St. Mary's fell to a middle-of-the-standings (but very good) Purdue team, Colorado State was overmatched and San Diego State had a great year, but was not itself against NC State. And don't even get me started on California underwhelming us all in Dayton. Congrats to Colorado for playing great. Tad Boyle is going to be a tough one to deal with in the Pac-12.
–I think Indiana could beat 14 of the teams in the Sweet Sixteen this week. The problem is the one team it plays it cannot beat again. Kentucky is not losing to the same team twice.
–Brady Heslip of Baylor has hit 22 of his last 36 3-pointers over the past four games. In the three games before that, he was 3-for-17. The display he put on versus Colorado would have made Loyola Marymount proud. Talk about being ready to play. Note to all those guys who are worried about not being in the starting lineup or not getting enough minutes. Be ready to play when called upon and, sooner or later, everyone will know your name anyway.

–If you can find two coaches who fought back from adversity better than Mick Cronin and Chris Mack this year, please let me know. The city of Cincinnati should be proud of the leaders of its basketball programs. Now who would have thought we would say that a few months ago?
–A reminder that the Associated Press voters didn't have Michigan State in its preseason top-25. But it did have Texas A&M, UCLA and Arizona. You just never know. But really, by now, shouldn't we just pencil a Tom Izzo-led squad somewhere in the preseason top-25 every year?
–Georgetown is either overrated or just not getting it done in the past few years. This year marked the fourth straight time the Hoyas have lost to a lower-seeded team in the tournament.
–I can't wait to get to Phoenix and watch three coaches with national championship rings. Tom Izzo, Billy Donovan and Rick Pitino all have NCAA championships and all will be at U.S. Airways Arena on Thursday ready to tip it off. Here is a little trivia for you that tells you how long and how well Rick Pitino has been doing this coaching thing. In 1987, 25 seasons ago, he took Providence to the Final Four. His point guard? Billy Donovan.
–How hard is it to make it to back-to-back Sweet Sixteens? Heck, how hard is it to just make it to the Tournament one year later? Last year at this time Arizona, Butler and Richmond were in the middle of great runs. This year they didn't make the field of 68.
–Indiana is back in the Sweet Sixteen for the first time since 2002. And don't take Marquette's back-to-back appearances in the Sweet Sixteen for granted. It had not been to the Sweet Sixteen since 2003 before last year. Buzz Williams is doing a great job.
–Last time North Carolina State was in the tournament was 2006. Its last Sweet Sixteen was 2005. Welcome back as Mark Gottfried continues to show athletic directors that coaches that take some time off and do media are well-prepared and rested after watching other coaches for a year or more. Just ask Steve Lavin how much time away did for him, as it allowed time for him to watch how others operate.
–Thad Matta has Ohio State in the Sweet Sixteen for the third straight year. But the goals are higher than that in Columbus. He knows it. And Ohio State has played Cincinnati once in a half century. It doesn't want to play the Bearcats. It has to now. The state of Ohio is the place to be for college hoops this week.
–Speaking of Ohio, it won't be long until John Groce is coaching a major conference team. Groce is a future big-time coach who has had his team ready to play. After a first-round upset of Georgetown in 2010, Groce's team did one better this year, knocking off Michigan and South Florida to reach the Sweet Sixteen. Prior to Groce, Ohio had been to the NCAAs once since 1995 and had not won an NCAA Tournament game since 1983. And please give me some more D.J. Cooper. He can play for anyone, at any time, at any place.
–So sad for North Carolina with its team fighting through injuries. Only thing I can think of is Tyus Edney in 1995. Next man up in Chapel Hill is what has to happen now.
–Finally, I leave you with this. While I was in rainy Portland last week for second and third round action, the sky cleared just long enough for Nate McMillan to be fired by the Blazers. Not surprisingly, since Louisville was in town, the media asked Rick Pitino if he wanted the job. His response: "Oh yeah, I love the weather and I enjoy losing. I'm gonna run right over and apply."
— Bill Frieder
Former Michigan and Arizona State head coach Bill Frieder is an analyst for Westwood One's coverage of NCAA Basketball. In his weekly blog Boxed Out, Bill scours the box scores to bring you interesting stories from the world of college basketball. This weekend Bill will be alongside Dave Sims in Phoenix for West Regional action. You can listen to all the games right here on WestwoodOneSports.com.