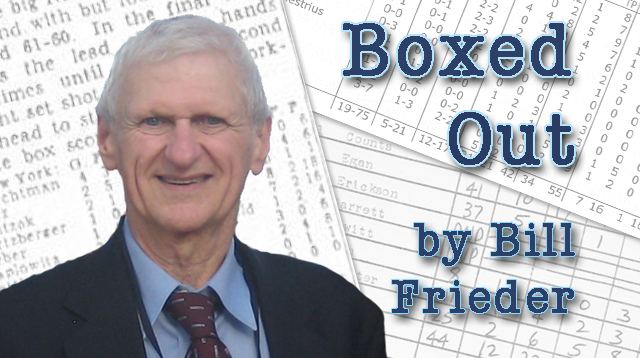 Let me give you some examples of what to expect in a couple of weeks in the NCAA Tournament. Consider the following:
Three days after downing Georgetown, Seton Hall loses to Rutgers
Colorado beats Cal two days after getting routed at home by Stanford
Georgetown loses to the Hall and then beats up a ranked Notre Dame squad 59-41
Immediately after beating both San Diego St. and UNLV, New Mexico loses to Colorado St. and TCU
Winners of 7 straight at the time, Missouri loses at home to Kansas State (then blows a 19-point second half lead in Lawrence)
After losing to Iowa, Wisconsin beats Ohio State in Columbus
Michigan takes down Ohio State then loses to Purdue at home
It goes on and on—big wins and bad losses. That's why when you get to the last four in you could throw 20 names in a hat and draw four out and it would be sufficient. Lots of parity heading into March. Good luck filling out that bracket.
Picking Dance Partners
Now, a few myths on the NCAA selection process. One is let's not even use the 20-win barometer anymore. No one cares who has 20 wins if 10 of them are against teams that are bad or if a team played 34 games overall. A 20-win season being used to determine if a team makes the NCAA Tournament is like saying 3,000 yards passing is still a milestone in the NFL. Times change…
Second thing is with 37 at-large teams 14 losses is not too many. You might forget that five teams made the field last year with 14 losses. Tennessee, Penn State, Michigan State, Marquette and USC all had 14 losses. Tennessee, Penn State and Michigan State had strength of schedules in the top 15. Marquette had five top-25 RPI wins, while USC had five top-50 wins. So if you have a lot of losses but have a good schedule and piled up some big wins, you have a shot…
Of Bulls and Cats
You really have to root for South Florida and Northwestern. Northwestern's fighting to get in field for first time, while USF has not been there since 1992 – and in just two appearances all-time, they are 0-2. This is a case where you hope the kids don't feel the pressure. And you can add Harvard to that mix. Remember this about Harvard… it was the team with the highest RPI left out of the field last year (35). USC got in with a 67 RPI. So there is a good guideline. South Florida closes at Louisville and versus West Virginia. Northwestern's got Ohio State and then goes to Iowa. Some tough games to clinch a bid.
Life's a Beach
Keep an eye on Long Beach State trying to go undefeated through the Big West. The 49ers are 14-0 and host UC Irvine (9-16) tonight and then play at a good Cal State Fullerton (17-8) team on Saturday.
Down South and Out West
Don't be shocked if the Pac-12 ends up with the same amount of teams in as the SEC. The SEC has four teams in the top 25 of the RPI in Kentucky (2), Florida (18), Vanderbilt (23) and Alabama (25).  Next highest RPI? Mississippi State at 66 but it is 6-8 in the league and in a free fall. Meanwhile, the Pac-12 has Cal (36), league-leading Washington (52), Oregon (58), Arizona (70) and Colorado (76). I don't think any of the other teams in the SEC can win the SEC Tournament. But in the Pac-12, no question that the league could get three teams and then a fourth via the Tournament with no great team. Keep that in the back of your bracket mind and let's revisit later.
– Bill Frieder
Former Michigan and Arizona State head coach Bill Frieder is an analyst for Westwood One's coverage of NCAA Basketball. In his weekly blog Boxed Out, Bill scours the box scores to bring you interesting stories from the world of college basketball.