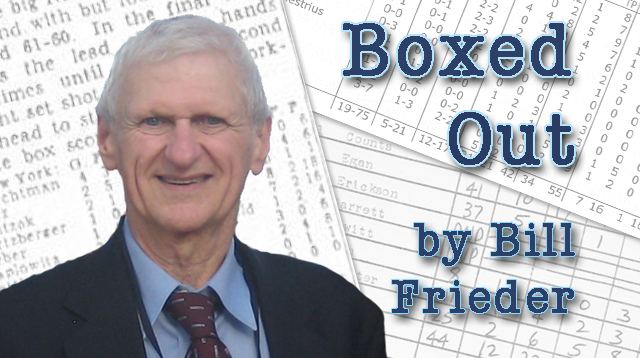 Congratulations to my former assistant Dr. Jim Phillips, who worked under me for 7 years at Arizona State. Jim is now the A. D. at Northwestern and even though they had a tough overtime loss to Michigan Tuesday, the Wildcats are on the verge of making history if they get into the NCAA Tournament for the first time. Bill Carmody plays everyone tough and his team has a strength of schedule of 10 and an RPI in the 40s. The 'Cats' resume boasts big wins over Michigan State (currently a #1 seed) and Seton Hall – and the Hall's big win over Georgetown Tuesday helped both Seton Hall and Northwesten. I say the Wildcats do enough the rest of the way to get in.
Big Games
A couple of monster games we have to mention. Kelton Page goes old-school by making all 20 free throws and gets 40 points for Oklahoma State in a win over Texas. And then Drew Gordon becomes just the fifth player in the past decade to get at least 20 points (27) and 20 boards against a top-25 team in regulation when New Mexico dismantled UNLV. I remember in November of 1994 our Arizona State team had just won the Maui Invitational and went to New Mexico ranked 12th. We were feeling pretty good about ourselves at the tip – until 17,000 people started howling. Let's just say we got beat badly. Albuquerque is one of the best college basketball cities in America. Coach Alford has done a great job in keeping a rabid fan base happy with a great home record. New Mexico has never reached the Sweet 16 since the field expanded to 64. I think that happens this year…
Putting the I-L-L in Illini
This is a great time of the year, but I see a good man and good coach like Bruce Weber and it reminds me of how cruel of a business it can be. In his eight seasons at Illinois he has made the NCAA Tournament six times and won at least 20 games seven times. In his second year back in 2005, he took the team to the NCAA title game. Weber backed that season up with a 26-7 mark and a 23-12 mark the next year. Yet none of that seems to matter right now. His Illinois team is sick at the moment, and not in the good way. They're 5-10 in the Big Ten and got blown out by Nebraska. The Illini will need a major turnaround to make the tournament. In a talent-rich state like Illinois, missing the dance can mean trouble. I look at Weber's overall record and it makes me realize I'm glad to be behind a microphone and a computer and not on the sideline anymore…
Droughts and Streaks
Here's some knowledge for you… the six longest droughts among major conference teams for an NCAA Tournament appearance are Northwestern (never), Oregon State (1990), Rutgers (1991), South Florida (1992), Nebraska (1998) and Ole Miss (2002). I bring this up because Northwestern, South Florida and Ole Miss are still in the mix late in February. Guess all *bad* things come to an end too.
And a reminder that while Kansas (22), Duke (16), Michigan State (14), Gonzaga (13) and Wisconsin (13) are going to extend NCAA Tournament appearance streaks, Texas (13) still has work to do and Pitt (10) will need to win the Big East Tournament.
Bubble Watch

If you like to follow bubble teams, keep an eye on these: Xavier, Northwestern, North Carolina State, Central Florida, Texas, Miami, South Florida, Colorado, Colorado State (who notched a big win over New Mexico Tuesday), Oregon and Minnesota. The fate of these teams will be determined by how they finish the season and I would guess that all of them better get at least one victory in their conference tourney. That said, I think the committee hopes that most of them lose so it will make their job easier.
– Bill Frieder
Former Michigan and Arizona State head coach Bill Frieder is an analyst for Westwood One's coverage of NCAA Basketball. In his weekly blog Boxed Out, Bill scours the box scores to bring you interesting stories from the world of college basketball.