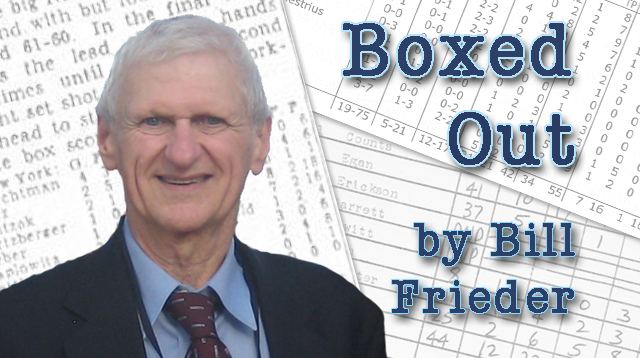 Right now Kentucky has become the Harlem Globetrotters and anyone that plays the Wildcats are the Washington Generals.
Baylor has had a great season. A magical season. But at some point, to be considered a Final Four contender, you have to beat a top-10 team. The Bears have failed in that regard  in getting swept by Kansas and Missouri and they're 2-4 against the top-25. Yeah, the Bears have 10 wins away from home, and yes, they've beaten some great teams. But I am of the opinion they are not going to the Final Four unless they get tougher and don't get caught up in how great it has been. They need to think about how great it can be.
Tournament Worthy?
Let me toss a team out there and you tell me if they deserve to be in the tournament. The mystery team has an RPI of 55, but a strength of schedule of 266. It has won a dozen games against teams with RPIs above 200, including four games against teams who have RPIs in the 300s. It does have 11 wins away from home, but only three top-100 wins. What do you think? The reason I ask is that team in question is Murray State, who plays Southeast Missouri State (RPI of 240) Wednesday before hosting No. 25 Saint Mary's in a BracketBuster matchup on Saturday. Does Murray State have the look of an NCAA team? Yes. Could it beat pretty much anyone in the field on a neutral court? Yes. But do the Racers deserve an at-large bid if they don't beat Saint Mary's? Remember, as many as 15 wins of their wins would be against teams with RPIs of 200 or worse. Tough call, right? It all becomes a moot point if Murray State wins the OVC Tournament, but it's interesting to think about for now.

A Rivers Runs Through It
Put me down as someone who believes Austin Rivers can take Duke to the Final Four. Keep this in mind about Duke… it has played a brutal schedule. Second in the nation. Michigan State, Michigan, Kansas, Colorado State, Ohio State, Temple, Davidson and Belmont out of the league. It has played 16 games against top-100 teams, going 12-4. Rivers' shooting, the inside game of the Plumlee brothers and Coach K doing his thing has me thinking opening the tournament in Greensboro and then going to Atlanta is happening for Duke…
No Ex-'Cuses
Every year Syracuse gets killed for not leaving its state early and not playing enough road games. It is really killing them this year… well, maybe not. The Orange are 7-1 on the road this year after a great (and gritty) win at Louisville Monday. Jim Boeheim's crew has won 12 of its last 13 road games and Coach Boeheim has done a great job of keeping his team on the task at hand. The Orange could be visiting a Big East city en route to the Boston Regional, as both Louisville and Pittsburgh host first-weekend games.
The Top Five
Who will be the top five picks in the draft next year? How about Kentucky's Anthony Davis, Thomas Robinson from Kansas, Andre Drummond of UConn, Kentucky's Michael Kidd-Gilchrist and North Carolina's Harrison Barnes. I'm leaving Jared Sullinger out for now as he has slipped a little. But if he can lead his team to a national championship that will help him big time. The only problem? Right now I have Kentucky, Syracuse, Duke, Kansas and North Carolina as teams with a better chance to win it all than the Buckeyes.
— Bill Frieder
Former Michigan and Arizona State head coach Bill Frieder is an analyst for Westwood One's coverage of NCAA Basketball. In his weekly blog Boxed Out, Bill scours the box scores to bring you interesting stories from the world of college basketball.